The X-SERIES | Anodes for Extreme Environments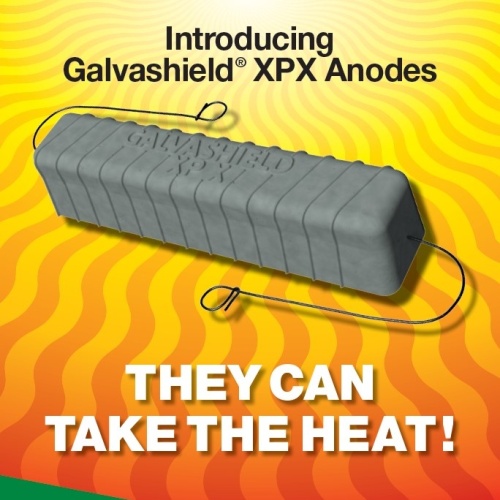 May 19, 2022
Categories:
Announcements
Galvashield® X-Series Anodes are designed to achieve 20+ year service life in Xtreme environments
Traditional
Vector Corrosion Technologies' Galvashield XP & CC anode standard spacings are designed to achieve a minimum 20-year anode service life in average annual temperatures of 10-15°C (50-60°F). Every 10-15°C (18 to 27°F) increase in temperature causes a natural increase in the current delivered by a galvanic anode which will reduce the anode service life.
X-Factor
Vector's new X-series anodes strike the right balance of anode service area and zinc mass to allow the anodes to meet demanding 20-year anode service life requirements in average temperatures greater than 15°C (60°F).

If the average annual temperature of an environment exceeds 15°C (60°F), specify Galvashield® XPX & Galvashield® CCX.
New York 11.9°C (53°F)
Chicago 10.2°C (50°F)
Los Angeles 17.6°C (64°F)
London 10.8°C (51°F)
Tokyo 15.2°C (59°F)
Sydney 18.0°C (65°F)
Miami 24.2°C (76°F)
Mumbai 26.4°C (80°F)
Singapore 26.7°C (80°F)
Dubai 28.2°C (83°F)
Jeddah 28.1 °C (83°F)
Vector President David Whitmore explains the anode design considerations, temperature effects and the opportunity to use performance specifications in the video below: